Thailand's Gen Z-Led Protests
Image: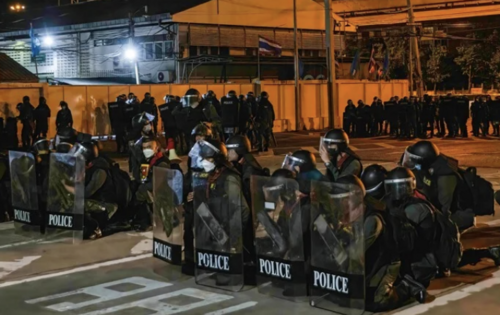 Thailand's Gen Z-Led Protests
Although the news of Thailand's student-led protests are not the most recent, new articles have been published detailing the consistent, daily protests and small-scale battles between Generation Z protesters and the police. Nightly protests have converged in Din Daeng, a working-class area, for the past seven weeks. These students are angry at the government for seemingly failing them, leaving them with a weak economy and a perpetual lockdown due to a mismanaged COVID-19 response. The articles suggest that in addition to these political factors, the protestors are "motivated amid online school and job loss" (SCMP, 2021). These protests call for the resignation of Prime Minister Prayuth Chan-ocha.
The article entitled, Thailand protests: it's youths vs police at Bangkok's Din Daeng neighbourhood, tells the story of A, a 23-year old frustrated by the current economic conditions. He leads a group of 15, with the youngest being 16 years of age. He expresses the desire to simply find a decent job that allows him to start a family and to not be in debt. He attributes the inability to do so to Chan-ocha's leadership over a country with increasing income inequality and household debt (SCMP, 2021). 
The other article, As Thailand's 'new-breed' Gen Z protesters dig in, violence mounts and hopes for compromise vanish, focuses on Sand, a 16-year old from the Isaan region in Northeastern Thailand. Sand protests the government for everything from slow vaccine roll-out to growing inequality in a country led by a tight-knit elite (SCMP, 2021).
Both these articles highlight the persistence of the protestors and their unwillingness to back down; we also see the police refusing to validate their point of view, attributing their protests to the protestors being rambunctious and bored kids. Many royalist-conservatives take on the same opinion as the police, condemning the protestors and minimizing their cause. PM Chan-ocha refuses to back down and is continuing to strong-arm the protests by allowing the police to use tear gas and rubber bullets against violent protests. However, A and Sand, the two individuals interviewed, have both expressed frustration, voicing that nonviolent protests had been previously met with violence, so protestors felt they had no choice but to defend themselves. The protests do not seem to be waning at this moment, and this is an issue in need of further update.
Sources:
https://www.scmp.com/week-asia/politics/article/3150035/thailand-protests-its-youths-vs-police-bangkoks-din-daeng?module=perpetual_scroll&pgtype=article&campaign=3150035
https://www.scmp.com/week-asia/politics/article/3145669/thailands-new-breed-gen-z-protesters-dig-violence-mounts-and